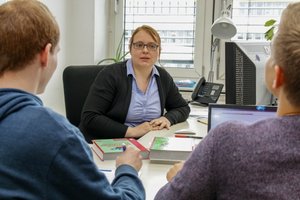 Für alle Qualifikationsarbeiten am Lehrstuhl für Wirtschaftsinformatik und Unternehmensmodellierung ist ein festes Procedere vorgesehen. Dieses besteht aus den folgenden Schritten: Themensuche, Exposé und Gliederung, Besprechung des Themas mit dem Betreuer und die schriftliche Ausarbeitung.
Themensuche
Identifizieren Sie Themen der Wirtschaftsinformatik, die Sie begeistern und die Sie vertieft untersuchen möchten (Erkenntnis impliziert Interesse!).
Informieren Sie sich über unsere Forschungsgebiete und unsere Betreuungsangebote (individuelles Feedback, Kolloquium, Einführung wissenschaftliches Arbeiten, Präsentationstechniken usw.; siehe unten).
Werten Sie auf dieser Grundlage die von Mitarbeitern/-innen des Lehrstuhls vorgeschlagenen Themen für Abschlussarbeiten aus und kontaktieren Sie bei Fragen zu einem Themenvorschlag den jeweiligen Betreuer/-in per E-Mail. Sie können jede/-n Mitarbeiter/-in auch jederzeit per E-Mail zur Diskussion eigener Themenvorschläge kontaktieren.
Abstract and Outline
To prepare a first talk with your supervisor, create a 2-3 pages long abstract which describes a) the topic of the thesis, and b) the way you are planning to work on the topic. The abstract should also include a first draft of the planned table of contents.
Your abstract does not need to be entirely complete, and likely some of your plans will be changed later on. However, writing an abstract is a good opportunity to sort one's own thoughts, and to create a foundation for the first talk with the advisor.
Send your abstract to the UMO chair by e-mail. If the thesis can be supervised, you will be invited to a first talk with the advisor of the topic.
In some cases, it might be appropriate to already use the template for theses provided by our chair when writing the abovementioned proposals. Please contact your supervisor to arrange this.
Advisor selection, topic clarification
Then, find the appropriate faculty or research assistant to advise on your thesis. The information in the research section of this Web site or the competence profile indicate the respective areas of interest.
Clarify the thesis topic and specify definite objectives of the thesis in a discussion with your advisor.
Thesis writing
Do the preparatory literature research in order to gain a - preferably comprehensive - picture of related work in the chosen topical area.
It is recommended to write an exposé with a length of about five pages. In this exposé, you should present the given problem, motivation, goals for your thesis and your proposed scientific approach.
Write your thesis independently! It is important to regularly discuss major issues with your advisor. However, the thesis should be written largely independently and your advisor can only help to clarify questions concerning a few important decisions and steps in the writing process. Additionally, you have the opportunity to present and discuss the chosen approach in the context of the Thesis Colloquium.
Submit your finished thesis together with an abstract (half a page). The complete thesis has to be made available to the advisor in digital format (i.e. PDF or Word file) for electronic publication.
Writing a thesis within our research group requires you to participate in the Thesis Colloquium. Here, students present their thesis under development and can discuss critical issues with other students and the lecturer, which can give you valuable input for the future progression of the thesis.
Information for writing a thesis
Get to know the way adademic work is done. This includes for example the goals of scientific work, its fundamental rules and principles and a academic work attitude. These topics are dealt with in a Moodle course that we created for you. In this course, you also get responding literature recommendations. Please ask your supervisor for the access data.
Follow the basic typographical rules. You can read the document "typokurz: Einige wichtige typografische Regeln" (German language only) to get an understanding of typography. You can also get support from your supervisor regarding LaTeX. We can provide you with a pre-configured LaTeX template for your thesis.
Please consider the rules for orthography and grammar of the respective langauge of your thesis. Do not rely on the language check or automatic hyphenation of your word processor. Take at least 3, better 5-7 days, for your final check. Give your final (!) manuscript to at least one third party for correction.