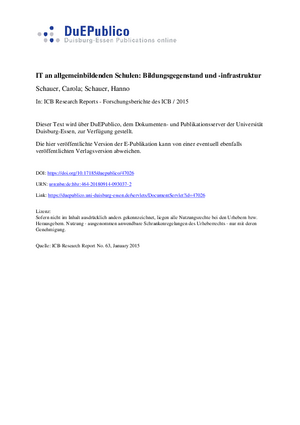 Type of Publication: Research report
IT an allgemeinbildenden Schulen: Bildungsgegenstand und -infrastruktur – Auswertung internationaler empirischer Studien und Literaturanalyse - ICB Research Report
Author(s):

Number of Report or Contribution:

63

Location(s):

Essen

Publication Date:

2015

Digital Object Identifier (DOI):

Link to complete version:

Citation:
Abstract
Die sich stets weiter entwickelnden Informations- und Kommunikationstechnologien (IuK) sind Treiber eines beispiellosen Strukturwandels: Sie durchdringen und prägen zunehmend unsere Kommunikation, wirtschaftliches Handeln und soziale Interaktionen. Auch im schulischen Bildungssystem muss man sich daher mit der Frage auseinandersetzen, welche Rolle IuK im praktischen Unterricht und in den schulischen Bildungsinhalten spielen sollte. Vor diesem Hintergrund bietet der vorliegende Arbeitsbericht eine umfassende Analyse der verschiedenen Facetten von IuK im Kontext allgemeinbildender Schulen. Dazu wird zunächst ein Strukturierungsrahmen für schulische IuK-Bildungsinhalte entwickelt. Desweiteren erfolgt eine umfassende Auswertung bisheriger empirischer Studien und Literaturquellen. Die Analyse fokussiert dabei auf die aktuelle Rolle von IuK-Ressourcen und -Bildungsinhalten an deutschen Schulen und ergänzt dieses Bild – wo möglich – durch einen Vergleich mit anderen Industrienationen. Abschließend werden allgemeine Empfehlungen zur Ausrichtung der IuK-Bildung an Schulen abgeleitet und Forschungsbedarfe aufgezeigt.