Tue, 29. Jun. 2021   Mario Nolte
Beitrag von Alexander Bock und Koautor:innen als "Best Research-in-Progress Paper" der ECIS 2021 ausgezeichnet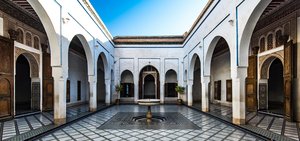 Der von Alexander Bock gemeinsam mit Sergio España, Jens Gulden, Katharina Jahn, Livinus Obiora Nweke und Andreas Richter verfasste Beitrag "The Ethics of Information Systems: The Present State of the Discussion and Avenues for Future Work" wurde auf der ECIS 2021 mit dem "Best Research-in-Progress Paper" Award ausgezeichnet. Die ECIS gilt als eine der renommiertesten internationalen Konferenzen der Wirtschaftsinformatik bzw. ihrem internationalen Pendant Information Systems Research.

Der akzeptierte Beitrag wurde am 15.6. von Alexander Bock auf der virtuellen Tagung vorgestellt. Der Beitrag war neben mehreren anderen Einreichung für den "Best Research-in-Progress Paper" Award nominiert und wurde im Rahmen der Award-Zeremonie als Gewinner ausgewiesen. Die offizielle Meldung aller vergebenen Awards findet sich auf den Webseiten der Association for Information Systems.

Die Analyse ethischer Implikationen des Einsatzes von betrieblichen Informationssystemen hat in den vergangenen Jahren eine zunehmende Beachtung erfahren. Allerdings verläuft die Diskussion bislang weitgehend unstrukturiert und fragmentiert. Vor diesem Hintergrund gibt der Beitrag einen Überblick über ausgewählte Diskussionsbeiträge; es wird ein Bezugsrahmen zur Einordnung zugehöriger Forschung vorgeschlagen und es werden Pfade für zukünftige Arbeiten skizziert. Von besonderer Bedeutung für die Wirtschaftsinformatik erscheint es, eine kohärente Konzeption der Ethik von Informationssystemen zu entwickeln, die einerseits anschlussfähig an tradierte philosophische Moraltheorien ist und die andererseits den Besonderheiten des Forschungsfelds Rechnung trägt – wobei insbesondere an die Gestaltung möglicher Welten mit und durch Informationssysteme zu denken ist.

Der Beitrag ist im Rahmen einer Kooperation entstanden, an der u.a. Forscher:innen der Universität Duisburg-Essen, der Utrecht University, Netherlands, der Technischen Universität Chemnitz und der Norwegian University of Science and Technology beteiligt waren.